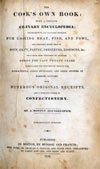 The Cook's Own Book: Being A Complete Culinary Encyclopedia: Comprehending All Valuable Receipts For Cooking Meat, Fish, And Fowl, And Composing Every Kind Of Soup, Gravy, Pastry, Preserves, Essences, etc. That Have Been Published Or Invented During The Last Twenty Years. Particularly The Very Best Of Those In The Cook's Oracle, Cook's Dictionary, And Other Systems Of Domestic Economy. With Numerous Original Receipts, And A Complete System of Confectionery.
Written by Mrs. N. K. M. Lee
Boston, Munroe and Francis; New York, Charles E. Francis, and David Felt [etc.] 1832.

This book is considered the first alphabetically arranged culinary encyclopedia in America.
Here are some recipes from the book.
Bacon
Bacon and Eggs
Barley Water
Barley Gruel
Beef Balls
Beef Bouilli
Beef Baked with Potatoes
Beef Sirloin
Beef Steaks Broiled
Bread
Chickens Broiled or Grilled
Chicken Baked in Rice
Cod
Coffee
Coffee, French Method of Preparing
Macaroni
Pork, Leg
Pork Spare Rib
Potatoes
Rice Casserole
Tomata Sauce Italian
Fish
Queen's Potage
Rice Soup
Soups
Mullagatawny
Vegetables