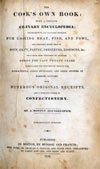 Beef Steaks Broiled
Cut the steaks off a rump or the ribs of a fore quarter; beat them well with a rolling-pin.
Have the gridiron perfectly clean and heated over a clear quick fire; lay on the steaks,
and, with meat tongs, keep turning them constantly, till they are done enough;
throw a little salt over them a little before taking them off the fire.
Serve them as hot as possible, plain, or with a made gravy and sliced onion,
or rub a bit of butter upon the steaks the moment of serving.

Mutton chops are broiled in the same manner.