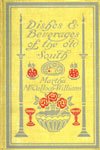 Shrimp Pie
Boil and pick from shells one hundred shrimps,
mix well with two large slices stale bread free of crust,
moistened with two glasses white wine,
and highly seasoned with salt,
pepper,
Cayenne,
nutmeg,
mace,
chopped thyme
and parsley.
Crisp the bread crusts, and grate over the mixture after it is packed in a deep dish.
Dot well with butter, and bake in a hot oven.
Serve with a sauce made by cooking together a pint of boiled shrimps,
a tablespoonful of butter,
five chopped tomatoes,
a little celery,
thyme,
parsley
and bay leaf, also chopped.
Cook three to four minutes,
then add half a pint of oyster liquor,
boil up, and serve very hot.