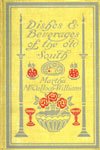 Molasses Pie
(M. W. Watkins.)

Cream well together one large cup granulated sugar,
and one heaping tablespoonful of butter,
add when very light the well-beaten yolks of three eggs,
and a large cup of rich molasses.
Flavor with one teaspoonful grated nutmeg, then beat in,
at the very last, the whites of the eggs frothed as stiff as possible.
Bake in pans lined with rich crust until firm.
Meringue can be added, but the pies do not need it.