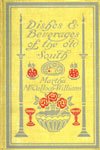 Fried Chicken
Cut into joints two tender young chickens, wipe the pieces dry,
season with salt and pepper, red and black, then set on ice.
Fry a pound of streaky bacon in a deep skillet, take out when crisp,
roll chicken in flour, dip in beaten egg, then roll again,
and lay in the fat, which must be bubbling hot, but not scorching.
Cook, turning often, to a rich brown, take out, then pile in a pan,
set the pan over another with boiling water in the bottom,
and put all in a very hot oven for fifteen minutes.
This cooks the chicken through and through without making it hard.
The pieces must not touch in frying so there will be two skilletfuls.
When all the chicken is fried, and in the oven, dredge in more flour,
stir it well through the fat, then add a cup of cream,
stirring hard all the time, and letting it barely simmer--boiling curdles it.
Or if you want a full-cream gravy, pour off the fat,
stir the cream in double quantity in the skillet to take up the flavors,
then pour it in a double boiler, add pepper, salt, minced celery,
a little onion juice, and one at a time, lumps of butter, rolled well in flour.
Cook until thick and rich, and serve in a gravy boat.