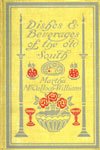 Bouillabaisse
While time endures New Orleans will plume itself upon this
dish which drew from Thackeray a world-famous tribute.
"In New Orleans you can eat a Bouillabaisse,
the like of which was never eaten in Marseilles or Paris."
Which is much, very much, from the laureate of Bouillabaisse, as native to Marseilles.
The reason of superiority is not far to seek--it lies in the excellence and flavor of
the fish native to the Gulf of Mexico.
Lacking Pompano, Red Snapper, and Redfish, even Milly
could not quite do her knowledge justice.
But she made shift with what the market offered, choosing generally halibut,
with fresh cod, or bluefish, or sea trout.
Two kinds of fish in equal quantity are imperative.
The better, finer and firmer the fish, the better the Bouillabaisse.
Cut each sort in six equal slices, saving trimmings, heads, etc.
Boil them in three pints of water, with a sliced onion,
and a bouquet of herbs, until reduced to one pint.
Remove fish-heads and herbs, then strain the stock, and set aside until needed.
Meantime rub the fish over very well with salt and pepper,
then with a mixture made by mincing very fine three bay leaves,
three sprigs each of thyme and parsley,
three cloves of garlic,
and six allspice pounded to powder.
Rub the mixture in well and thoroughly--here is the key to success.
The seasoning must go through and through the fish.
Put into a very wide pan, two tablespoonfuls of olive oil,
heat it gently, add two mild onions, chopped and let them cook a little without browning.
Now lay in the fish, slice by slice, so one slice does not touch another,
cover the pan, and let the slices smother for about ten minutes,
turning them once, so as to cook each side partly.
Take up, lay separately in a large dish,
pour half a bottle of white wine into the pan, and stir hard.
Add six large, fresh tomatoes, sliced very thin,
let boil a few minutes,
then half a lemon, also in very thin slices,
and a pint of the fish stock strained.
Season well, with salt, pepper, and Cayenne--here the palate is guide.
Boil all together until reduced almost one half, then lay in the fish slices,
taking care they do not touch, and boil briskly for five minutes.
While the boiling goes on, chop fine a pinch of saffron, put it in a small,
deep dish, and mix smooth with a spoonful of the boiling liquor.
Dissolve the saffron very well, and when the fish has cooked its allotted five minutes,
spread the saffron on top of the fish.
Fry in butter as many slices of toast as you have slices of fish--
ay the fish on the toast, pour the sauce over it, and serve immediately, very hot.