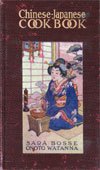 Japanese - Tea
Tea, of course, is the staple drink of both the Chinese and the Japanese,
and it comes in any number of varieties.
Of the Chinese teas a few may be especially recommended,
such as Loong Taing, Long Gue, Oolong, and Lung Sue.
Of the Japanese teas, Gyukura, or, in English, Pearl Dews, tea is delicious.