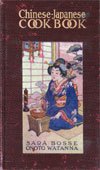 Japanese - Sweet and Sour Cabbage
AMAI TAMANA
Cut a small, hard cabbage very fine.
Place in frying pan one tablespoonful of goma oil,
and when it is boiling hot throw in the shredded cabbage.
Sprinkle with salt, and fry, stirring constantly to keep it from burning.
Add one tablespoonful of sugar, the same quantity of vinegar,
and a little piece of lemon or orange peel, shaved very fine.
Cover tight, and let all simmer for twenty minutes.
Finally add half a teaspoon of goma seeds.
Serve hot.