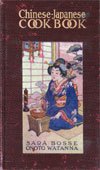 Japanese - Roast Pheasant
MUSHI KIJI
One good pheasant;
one pound of small Japanese almonds;
one and one half cupfuls of rice paste (comes prepared);
three cupfuls of mirin sauce;
one half cupful of cooking sauce;
one tablespoonful of sugar;
salt,
pepper,
and mixed spices;
oil.

Wash and singe the bird, then rub well with salt.
Place in deep dish and cover with three cupfuls of mirin sauce;
more, if that quantity does not cover the bird.
Lay away in a cool place over night,
then drain off all liquid and have ready the almonds, blanched and chopped very fine.
Add them to the rice paste with the sugar, a little salt,
quarter of a cup of cooking sauce, and a pinch of mixed spices.
Stir all together, and stuff the pheasant with this mixture.
Sew up, and truss.
Have ready boiling hot olive oil or goma-seed oil,
pour it over the pheasant, and place in a hot oven.
Roast until tender (about one hour),
adding little by little the rest of the cooking sauce, and basting frequently.
Cook for a half-hour longer,
then place on hot platter and garnish with flower petals and water cress.