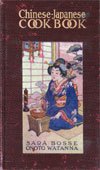 Japanese - Fried Eggplant
NASUBI YAKI
Peel the eggplant and cut it in slices.
Cover with ice water and a handful of salt.
Put on a heavy weight, iron or stone, to press out the juice,
and leave for about half an hour.
Then strain off all water, which will be a dark brown,
and rinse with fresh cold water, wiping dry each slice.
Dip each piece in beaten eggs, and fry in goma-seed oil; drain off all oil.
Place on a platter, covering well with one cupful of cooking sauce, boiled.
Sprinkle with goma seeds, and serve with rice.