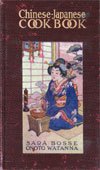 Japanese - Fish Delicacy
TEMBANI OF MACKEREL
One good-sized mackerel;
one fresh radish;
one cupful of syou sauce;
vinegar;
orange or lemon peel;
one half cupful of cooking juice.

Clean the fish, and remove all bones.
Cut into half-inch dice, sprinkle with salt,
and let stand for about half an hour.
Wash the radish and cut into thin pieces,
then throw it into the salted, boiling water.
Boil for about five minutes,
then strain off all water and add half a cupful of syou sauce
and the same amount of cooking juice.
Let all boil up, then add the fish and let it
simmer for about twenty-five minutes.
Remove from the fire,
and before serving add a tablespoonful of vinegar.
Place on a hot platter,
and sprinkle with grated lemon or orange peel.
Serve with boiled rice.