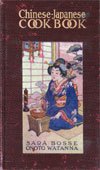 Japanese - Chicken Soup
TORI SHIRU
Two pound chicken (not necessarily young);
one half pound of egg noodles;
one half cupful syou sauce;
one quarter pound of white mushrooms;
one half dozen water chestnuts;
salt,
pepper,
and sugar.

Thoroughly clean and singe the chicken, and scald feet to peel off scabs or skin.
Cut giblets in small pieces and the chicken in about six pieces,
and cover with three quarts of cold water.
Boil all for about three hours, according to the age of the chicken.
While it is boiling wash and cut up the vegetables.
Now make the egg noodles of flour and eggs and roll as thin as paper on a floured board,
then cut in shapes of flowers (chrysanthemums, the Japanese prefer),
and leave spread out on the board to dry.
Drain all soup from the bones and bring to a boil.
Add vegetables, salt, pepper, and one teaspoonful of sugar; also the syou sauce.
Boil all for half an hour, then throw in the noodles and cook for ten minutes.
Serve each bowl of soup with one large noodle flower on top.