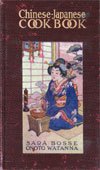 Japanese - Cherry Custard
SAKURA
Beat up lightly and frothily six fresh eggs.
Add one cupful of milk, sugar, and three tablespoonfuls of cherry sirup.
Throw a handful of ripe, plump red cherries into the baking pan,
and over this pour the above mixture.
Bake for about half an hour in a medium oven.
Then remove, and at intervals over top of dish set more cherries.
Sugar is unnecessary where the cherries are sweet and ripe,
as the syrup will then suffice.