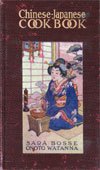 Chinese - Yea Foo Main Soup
One quart of soup stock;
one quarter pound of mushrooms;
three stalks of celery;
one eighth clove of garlic;
six water chestnuts;
one quarter pound of vermicelli;
one and one quarter teaspoonfuls of salt;
one teaspoonful of syou (Chinese sauce).

Have the soup stock boiling hot.
Then wash thoroughly in cold water all the above vegetables, and cut in small pieces.
Add to the soup one tablespoonful of syou, and the salt and pepper.
Let all boil twenty minutes; then add the vermicelli and boil fifteen minutes more.
Serve with hard-boiled eggs cut in quarters.