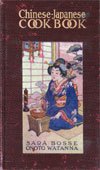 Chinese - Pineapple Fish
Two pounds of fish;
one tablespoonful of syou;
one can of preserved pineapple.

Clean a haddock or codfish of about two pounds and take out the bones.
Rub well with salt, and set in a fish pan.
Cover well with boiling water, and let it simmer gently for twenty minutes.
Drain off all the water,
and add one tablespoonful of syou and one can of preserved pineapple.
Let this simmer slowly for fifteen minutes longer.
Thicken with cornstarch or Quong Sang Chong, and serve with rice.