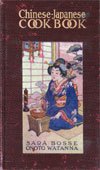 Chinese - Pineapple Chicken
BOO LOO GAI
One young chicken;
one tablespoonful of sweet lard;
one tablespoonful of syou;
one can of preserved pineapple.

Wash and singe a young, fresh chicken and cut off all the flesh.
Slice it, put a tablespoonful of sweet lard in the pan, and fry.
Do not let it burn.
Add the chicken, and fry brown.
Add a tablespoonful of syou and a can of preserved pineapple,
and cook slowly for fifteen minutes.
Thicken the pineapple juice with a teaspoonful of Quong Sang Chong,
and serve hot with rice.