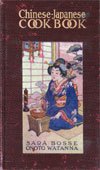 Chinese - Fried Rice with Eggs and Herbs
Six eggs;
one half pound of rice;
one quarter pound of pork, very fat;
three water chestnuts;
one stalk of celery;
one onion;
one teaspoonful of chopped parsley;
one teaspoonful of salt;
pinch of pepper.

First wash the rice and boil for half an hour.
Cut up the pork very small, and fry brown.
Add one onion, chopped fine; the three water chestnuts,
sliced thin, and one stalk of celery, cut small.
Salt and pepper, and fry all for ten minutes, taking care not to brown.
Now turn in the rice, and fry five minutes.
Meanwhile beat up six eggs, pour them over the mixture,
stirring and shaking the pan constantly for five minutes, and serve hot.