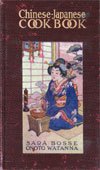 Chinese - Fried Cabbage
Wash and dry the cabbage, then cut in long, slender strips,
and throw into a deep frying pan containing two tablespoonfuls of hot fat.
Sprinkle with salt and pepper to taste and fry, stirring for five minutes,
shaking the pan to keep cabbage from burning.
This is very good with rice, and is used by the poor Chinese as a substitute for fish.