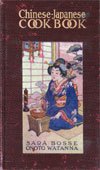 Chinese - Fried Bean Sprouts
Into a hot iron pan put a quarter of a pound of fresh pork fat, and fry brown.
Drain all water from a pound of bean sprouts, put into the hot fat,
and fry uncovered for five minutes, stirring to keep from burning.
Now add to the three tablespoonfuls of syou, salt, and pepper.
Cover tight, and let simmer for fifteen minutes.