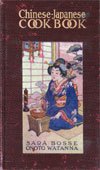 Chinese - Chicken Chow Main
Two eggs;
one teaspoonful of salt;
one quart of peanut oil;
one half pound of noodles;
four ounces of pork;
two pounds of chopped chicken;
one stalk of celery;
one onion;
one half pound of fresh mushrooms;
one half pound of breast of chicken, shredded;
three hard-boiled eggs;
two tablespoonfuls of syou.

Have the peanut oil boiling hot and toss in the noodles.
Fry until they are crisp, then take them from the oil and drain,
while preparing the following:
Take four ounces of fine chopped pork and half a pound of chicken meat, also chopped.
Now add two tablespoonfuls of syou and one teaspoonful of salt.
Cook all for ten minutes.
Lay the noodles on a platter, forming a layer at the bottom of the dish,
and place the vegetables and gravy on top of the noodles.
Add a layer of the shredded chicken breast,
lastly the yolks of hard-boiled eggs, crumbled, as a garnish.
Serve very hot.