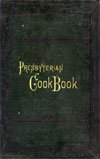 Cracker Hash
Mrs. D. W. S.

To one pound of cooked beef chopped fine, take seven crackers (rolled).
First cook the meat in a little water a few minutes, seasoning with salt and pepper;
then stir into the crackers and pour all into a pudding dish;
if too dry, add a little water.
Take a piece of butter size of a walnut and cut in small pieces over the top of the dish.
Bake about twenty minutes, or until quite brown;
serve in the same dish.