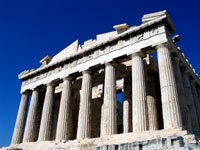 Tzatziki (Ancient Greek Appetizer)
Ingredients:
16 ounces strained Greek yogurt
1/2 cup diced or grated cucumber
5 to 10 cloves garlic, finely chopped
2 tsp lemon juice
1 tbl olive oil

Directions:
Combine oil and lemon juice in mixing bowl.
Fold yogurt in slowly, completely mix yogurt with oil.
Add garlic (to taste), and cucumber.
Stir until the garlic and cucumber are evenly distributed.

Use as a sauce, dip, spread or condiment.