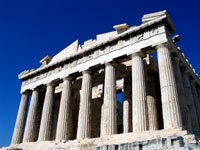 Mustacei
Ingredients:
500 grams wheat flour
300 ml grape juice (or young wine)
2 tbl anise seeds
2 tbl cumin seeds
100 grams lard
50 grams grated cheese (sheep's milk cheese)
20 bay leaves

Directions:
Pour some grape juice or wine over the flour.
Add anise seeds, cumin seeds, lard and cheese.
Work together until you have a dough.
Form rolls, then put one bay leaf under each of the rolls.
Bake for 30-35 minutes at 180 deg C.