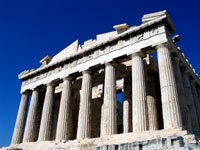 Lamb on Skewers
Ingredients:
3 pounds boneless leg of lamb, cut into 1 1/2 inch cubes
1 grated small onion
1 large white sweet onion, cut into eighths
3 cloves garlic, minced
2 red peppers, cut into 1 1/2 inch pieces
1 tsp salt (or to taste)
1/4 tsp freshly ground pepper (or to taste)
1 tbl fresh oregano or 1 tsp dried oregano
1/3 cup lemon juice
3 tbl olive oil

Directions:
Mix olive oil, lemon juice, salt, pepper, garlic, oregano and grated onion together.
Pour over meat and marinate for a few hours in refrigerator (or overnight).
Thread the pieces of meat alternately with red peppers and sweet onions on the skewers.
Barbecue the pieces of meat and keep basting with the marinade.
Meat is ready when the pieces are browned on all sides.