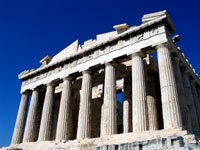 Ancient Greek Honey and Sesame Fritters -
(Arxaies Tiganites me meli kai sousami)
Ingredients:
1/2 cup flour
1 cup water
2 tbl honey
Oil for frying
Baked sesame seeds
Directions:
Mix flour, water and one tbl honey to make a dough.
Cover the bottom of a frying pan with oil (2 tbl or so) and heat.
Pour 1/4 of the mixture into the sizzling oil.
When it thickens, turn it over 2-3 times to fry it golden brown on both sides.
Prepare 3 more fritters following the given instructions.
Serve hot, pour the rest of the honey over the fritters, and sprinkle baked sesame seeds over them.