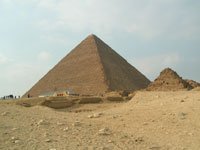 Tiger Nut Sweets
This recipe is one of the world's oldest known recipes. The ancient recipe for 'Tiger Nut Sweets' was found scratched on a piece of clay in Egypt around 4000 BC.
Ingredients:
200 grams fresh dates
Water
1 tbl cinnamon (or to taste)
2 tbl walnuts (roughly chopped)
2 tbl almonds (finely ground)
Honey
Directions:
1. Put the dates and a little water in a bowl.
2. Add cinnamon (to taste) and chopped walnuts.
3. Roll into small balls.
4. Coat with honey and almonds.