Born
August 25, 1968
Cape Cod, Massachusetts
Cooking Style
Italian
TV Show(s)
30 Minute Meals, $40 a Day, Inside Dish, Rachael Ray's Tasty Travels
Rachael Domenica Ray (born August 25, 1968 on Cape Cod, Massachusetts) is an Emmy-nominated television variety celebrity chef and author who hosts at least four different programs on cable television's Food Network: 30 Minute Meals, $40 a Day, Inside Dish, and Rachael Ray's Tasty Travels. She has authored a series of cookbooks based on the 30 Minute Meals concept. She will also host a syndicated TV talk show starting September 18, 2006.
History
Ray's family owned a restaurant in Massachusetts and her mother managed restaurants in upstate New York. Rachael started at the candy counter at Macy's in New York City. She helped open Agata & Valentina, a New York City market. Moving upstate, she worked as buyer and chef at the Cowan & Lobel market in Albany, New York. With the success of her "30 Minute Meals" classes, Schenectady, NY TV station WRGB asked her to continue on their newscasts. This, along with a public radio appearance and the publication of her first book, led to a Today Show spot and her first Food Network contract.
Cooking
Ray teaches simple recipes that she says can be prepared in thirty minutes or less. Like many cooks, she uses garlic and chicken stock as simple ways to boost flavors, and emphasizes using fresh herbs whenever possible. She says that measuring "takes away from the creative, hands-on process of cooking", and instead favors approximations such as "half a palmful" and "eyeball it". On her television programs, she has popularized catchphrases such as "E.V.O.O." (extra-virgin olive oil), "Yum-O!", "So delish!", "G.B." (garbage bowl)," and "How good is THAT?". She often refers to sandwiches as "Sammies".
Ironically, a reporter for a newspaper went through one of her 30 minute meals books and was unable to complete any of her dishes in under an hour.
Her signature tool is the chef's knife from Füri, an Australian cutlery company. She claims to dislike baking desserts and to be notorious for burning bread under the broiler. Ray says her late Sicilian maternal grandfather, Emmanuel Scuderi, served as a strong influence on her cooking. To critics of her shortcut techniques, Ray responds, "I have no formal anything. I'm completely unqualified for any job I've ever had."
Recipes from Ray's programs appear on the Food Network web site as well as in her books and magazine.
Media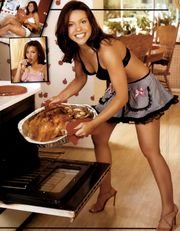 Ray as featured in the October 2003 issue of FHM
Ray launched her own magazine, Everyday with Rachael Ray in conjunction with Reader's Digest. The magazine premiered on October 25, 2005 and plans bi-monthly issues in 2006.
In addition to her television hosting and cookbooks, Ray has endorsed products for Price Chopper supermarkets and Burger King, and has developed her own line of cookware and cutlery. (When she endorsed Wüsthof's, sales rose dramatically, and she now endorses her own line of santoku knives. In 2003, she posed for the lad mag FHM. The New York Times wrote, "The shots feature Ms. Ray in short-shorts with an exposed midriff, licking chocolate off a big wooden spoon, eating a strawberry and sitting in a sink, laughing as suds cascade down her curvaceous thighs."
In late 2005, Ray signed a deal with Oprah Winfrey and King World Productions to host a syndicated daytime TV talk show. The show, "Rachael Ray" will premiere on September 18, 2006. Recurrent appearances on The Oprah Winfrey Show will be used to fuel the launch, much like Dr. Phil's show was spun off based on his own frequent visits to Oprah. The show will film in New York City, and Ray will continue to appear on the Food Network. Ray said, in coordination with the syndication announcement, "People know me for my love of food, but I have so much more I want to share."
In addition to Oprah, Ray has appeared on The View, The Today Show, and The Tonight Show with Jay Leno.
In 2006, Ray's 30 Minute Meals received an Emmy Award for Outstanding Service Show. Ray was also nominated for Outstanding Service Show Host, but lost to Suze Orman.
Bibliography
30 Minute Meals (1999)
Rachael Ray's Open House Cookbook (2000)
Comfort Foods (2001)
Veggie Meals (2001)
30-Minute Meals 2 (2003)
Get Togethers: Rachael Ray 30 Minute Meals (2003)
$40 a Day: Best Eats in Town (2004)
Rachael Ray's 30-Minute Meals: Cooking 'Round the Clock (2004)
Rachael Ray's 30-Minute Meals for Kids: Cooking Rocks! (2004)
Rachael Ray's 30-Minute Get Real Meals : Eat Healthy Without Going to Extremes (2005)
Rachael Ray 365: No Repeats: A Year of Deliciously Different Dinners (2005)
Rachael Ray's Express Lane Meals: What to Keep on Hand, what to Buy Fresh for the easiest ever 30 Minute Meals (2006)
Rachael Ray 2-4-6-8: Cooking for Couples or Crowds (a 30 Minute Meal Cookbook) (2006)
References
Digest, Reader's (November-December, 2005). "Rachael-isms". Every Day with Rachael Ray.
US, FHM (October, 2003). "Rachael Ray in FHM". FHM Magazine.
Pellettieri, Jill Hunter (July 13, 2005). "Rachael Ray—Why food snobs should quit picking on her". Slate.
Benson, Jim (December 4, 2005). "King World OKs Production on Ray". Broadcasting & Cable.
This article is licensed under the
GNU Free Document License
It uses material from Wikipedia.